New, High-Impact Printing Techniques
11/3/2015
Let's Start A Conversation: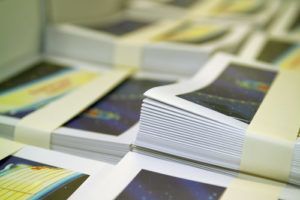 Smart ways to turn a marketing "must-have" into a must-open, must-hold and must-keep with high-impact printings!
For most small and mid-sized businesses, organizations and nonprofits, there's no denying the need for printed marketing materials.
Used to promote products or services (brochures, direct mail, menus), announce events (invitations), identify organizations or members of them (stationery, business cards), or update constituents (annual reports, newsletters), printed items are essential to many – even in this so-called digital age.
There's no denying the effectiveness of high-impact printing, either. According to a survey by Two Sides, people like paper-based media; 70% (including 69% of 18- to 24-year-olds) say they prefer to read printed communications rather than reading off of a screen.1
But if print is indispensable, how best to make it more impactful? It's easier than you might think with the latest high-impact printing techniques:
Print is durable; pass it on … and on and on
With thicker paper stock, waterproof or laminated finishes, and heavy-duty binding, your printed pieces can stand up to wear and tear. Specify these techniques if you envision longer-lasting applications such as an owner's manual, or if you're urging recipients to pass on a mailer to other readers.
Print is engaging; it provides just the right touch
No other option is more tactile than print! Make the most of this opportunity by choosing matte, suede and velvet finishes, or selecting by "open-me" angle cuts and pop-ups, to enhance the "feel" of whatever you're printing.
Print is dimensional; want to see how it unfolds?
Cuts and folds not only allow you fit your paper item into the right-sized envelope, but also enable you to organize, present or reveal your content with optimum effect. Consider using die-cuts in unusual shapes, or employing multiple folds to pique interest!
Print is eye-catching; "think ink" like never before
Metallic and pearlescent pigments, for example, allow you to capture the attention of readers. Add an extra measure of class to invitations or announcements with foil stamping or embossing. Other ways to stand out? Gloss UV and glitter coatings can add luster, while glow-in-the-dark or fluorescent inks may enliven your piece's presentation.
Print is relevant; targeted lists and VDP make it so
Today's highly accurate mail lists let you pinpoint audiences, while variable data printing enables you to customize your mailer with names, text and images to reflect gender, interests and purchase history and more. Responses to relevant marketing campaigns are, on average, over four times that of responses to static, same-to-all messages!2
Print is memorable; use it as a complement to digital
While digital is integral to most communications, savvy managers know it's not wise to put all of your marketing eggs into one basket. Why? A study by Millward Brown3 reveals that physical pieces prompt more brain activity than with digital views – suggesting that print is more "real," which may help with brand recall and motivation.
1 Two Sides, Electronic Media vs. Print: All Generations Prefer Paper, 2011
2Caslon, 1-to-1 Response Rate Report: Benchmark Information for Relevant Cross-Media Marketing, 2012
3Millward Brown, Using Neuroscience to Understand the Role of Direct Mail, 2009
Back To List