The Right Way to do a Multi-Channel Direct Marketing Campaign
1/12/2016
Let's Start A Conversation: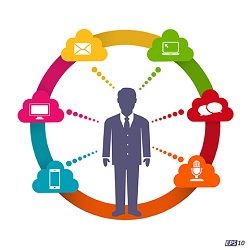 Six important dos … and don'ts!
Many small and mid-sized business marketers play favorites when it comes to choosing marketing channels, but may not measure its effectiveness to evaluate whether or not it's doing the job. Smart marketers know a "team effort" works best, and they capitalize on the strengths of multiple channels.
Why? It works! In fact, marketers using two, three or more types in a multi-channel marketing effort for lead generation can improve response rates by as much as 35%, reports InfoTrends.
Equally significant, consumers reached through multiple channels spend three to four times more compared to their single-channel counterparts, per Econsultancy
Given these results, it's no wonder that 65% of respondents use two or more media types in their marketing campaigns, while 44% use three or more, reports the Direct Marketing Association (DMA) in their 2015 Response Rate Report.
So what's the right way to do a multi-channel direct marketing campaign? Here are some recommendations:
Do offer an online response option in a print campaign. In your direct mailers, suggest that readers respond to it on your website's home page or, create a custom page to announce a sweepstakes, highlight a promotional offer or extend an invitation to a special event. Readers will appreciate the convenience; according to the DMA, 43% of direct mail recipients prefer to respond online.
Don't overlook the efficiency QR (Quick Response) codes. By adding one to your postcard or mailer, your targets can scan it with their smartphones and link instantly to any Web page you've directed them to.
Do give PURLs a whirl! Instead of asking readers respond to a general URL or GURL such as AceCarpetCleaners.com, direct them instead to a personalized URL or PURL like BobJones.AceCarpetCleaners.com. Some sources report that PURLs drive 20-40% more Web visitors than GURLs.
Don't miss the opportunity to personalize your mailers as well. Through variable data printing (VDP), you can customize your mail with names, text and images to reflect gender, interests, purchase history and more. Response rates for non-personalized mail in a lead nurture campaign are typically 2-3%, says the Direct Marketing Association. They leap to over 8% for lead generation to 28% for loyalty campaigns when personalization is employed, reports Caslon & Company.
Do consider the need for consistency. When using multiple communication channels, you may need to work a little harder to ensure your visual identity and brand messaging remains consistent across all.
And one more …

Don't hesitate to call us if you need assistance with any one tactic of a multi-channel direct marketing campaign or all of them. Locally based and fully capable, rely on us for everything related to signage and graphics – including mail and marketing.
Back To List