4 Surefire Ways to More Memorable Videos
9/24/2018
Let's Start A Conversation: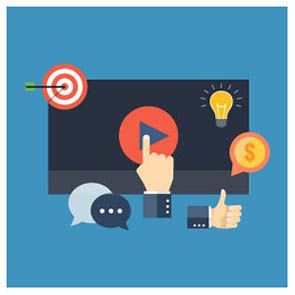 If video isn't yet part of your content marketing mix, there's ample evidence it should be. According to Cisco, videos will account for 69% of all consumer Internet traffic by 2017.
An ideal medium for content marketing, videos engage, educate and encourage viewers to buy. In fact, a recent consumer survey by Animoto reveals 73% of people are more likely to make a purchase after watching an online video that explains a product or service.
So, how best to make the most of this opportunity in support of your content marketing? Some tips on creating and distributing videos:
Keep it simple … and inexpensive. With a video camera, smartphone or tablet, some natural lighting, a quiet space and a little planning, you can produce great results on a modest budget.
Get more for less. Consider videotaping at an event such as a trade show where your experts, satisfied customers and a product demonstration all converge. One shoot, with the right editing, could yield several videos.
Share and share alike. Add your video to your website, link it in emails and e-newsletters, incorporate it into a topic-specific blogs and post it on social media channels – all while suggesting that viewers share your content with their friends!
Remember video's unique capabilities. Above all, videos are great at demonstrations. No other medium, for example, would be better for a paint store to show do-it-yourselfers how to stain a wood deck.
Some parting advice? Watch the clock. Ideally, your video will get to the point quickly, as viewers will give you only 5-10 seconds to convince them to keep watching. It should time out at 30 seconds to two minutes in length, and conclude with a call-to-action that urges viewers to visit a website, download a white paper, contact you for more information or otherwise take a next step toward cementing their relationship with you. An exception? A how-to video should be just as long as it takes to give proper instructions to those actively seeking the information.
Need help with videos or other tactics in content marketing? Contact us today.
Back To List