There's Still a Place for Printed Communications in Your Marketing
2/29/2016
Let's Start A Conversation: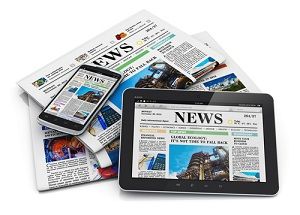 Today's marketing focus is largely on digital, and for good reason. Content in electronic form such as blogs, emails, e-newsletters and webinars as well as that developed for social media and websites can be distributed quickly and relatively inexpensively.
All that said, you'd be making a mistake if you ignore the popularity – and impact – of printed communications.
People – naturally respond positively to printed communications – including younger audiences who you might think would gravitate to digital channels. According to a survey by Two Sides, 70% of people say they prefer to read print and paper communications rather than viewing it on a screen. A full 69% of 18- to 24-year-olds give print a thumbs up over digital viewing.
Bottom line? Successful marketers know a combination of print and digital strategies delivers the strongest results. Here are a more advantages of print:
Print is tangible. Mailers, brochures, magazines and even business cards can stay in desks, offices or homes for weeks, months or even years, while electronic messages often disappear into cyber space instantaneously.
Print is engaging. Consumers are more engaged when reading printed material, unlike websites, which are often skimmed in as little as a 15-second visit.1
Print is fun! An almost unlimited array of papers and coatings, inks and finishes, n folds, cuts, sizes, enclosures and dimensional of shaped options enable you to pique interest in a way no digital alternative can.
Print is "safe." The fear of spam and computer viruses along with the saturation of online popups and banner ads is enough make many viewers weary of clicking. Beyond the occasional paper cut, print communications pose no such dangers.
Print is interactive. Smart marketers employ printed materials to point readers to online content – and vice versa. Referring to websites and social media pages is good, but positioning QR codes on your materials is even better. By scanning them with their mobile devices, users can instantly connect to web home pages or special landing pages for event invitations, special offers, contest entry forms or online sign-ups.
Remember, print is not dead. In fact, high-quality and impactful printed materials could be what differentiates you from the competition. So make sure you're always thinking about ways to elevate your digital content through print.
1 International Journal of Mobile Communications, On the Usability of Mobile Commerce, Saif AlShaali and Upkar Varshney
Back To List