How to Cut Through the Clutter with High-impact Printing
6/7/2016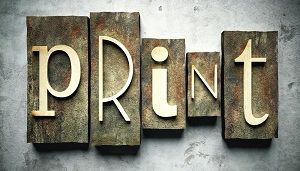 The ability to engage multiple senses gives print communications a decided edge over digital messages. In fact, the tactile nature of print impacts the brain differently than digital media, generating a stronger overall positive response at a subconscious level where emotionally driven buying decisions are made.
Finding ways to make your print communication products interesting and eye-catching can help you stand out from the crowd. And with today's wide selection of papers, cuts, creases, specialty inks and finishes, it has become easier for marketers to enhance their printed communications to drive marketing success.
Here are eight ways to enhance engagement and memorability with your print materials:
Match texture to content. Every project is about something, be it adventure travel or single origin chocolate. Try to find textures in the content, products or stories that you can emulate through paper. You may choose a texture that matches the weave of fabric, or a raw speckled texture that evokes the eco-friendly mission of a brand.
Use texture for contrast. Pairing dramatically different textures can heighten sophistication and elevate your content, capturing your audience's attention through touch. As their fingers move from one texture to another, the change in surface sparks their senses, focusing their interest on your content.
Add pizzazz! Foil papers catch the light . . . and attention. With different opacity levels of ink, you can achieve a pleasing rainbow effect when the piece is viewed from different angles. Foil is a great option from postcards to invitations.
Shape up with die cuts. Add an unusual shape to your printed materials. Whether selling homes, cars or cupcakes, die cuts can create pieces in the form of your subject to attract attention and underscore your specialty.
Let it shine. There are a number of different finishes that can be added to your direct mail that will help certain parts really stand out. Adding pearlescent or metalized pigments, for example, can help make the paper shine and naturally attract the eyes of the recipient.
Know when – and how – to fold 'em. Letter, accordion, gate, engineering, cross, double-parallel and baronial are but a few of the many types of folds to better present, organize and reveal your message – to say nothing of ensuring your piece fits in a right-sized envelope or folder.
See what pops up. Revealed to the viewer when unfolding a piece, pop-out images can add impact to a mailer or brochure and dramatize a product. Selling custom homes in a new development? How about a pop-up of a completed house, showcasing the beauty of a new model and how quickly one might be completed.
Remember the envelope. For direct mail letters, the envelope can make or break the campaign. To know what works for you, do a split test. Divide your list and send one group a plain white envelope and another a vibrant one, keeping the enclosed contents and messaging the same. You'll soon discover there may be a very simple way to drive better response. . . with paper.
Regardless of whether you are creating direct mail campaigns, brochures, publications, event invitations, newsletters and business cards, you can cut through the clutter and increase your engagement with high-impact printing techniques, specialty papers and folds. If you need help developing a high-impact print campaign that can help you stand out against the competition, reach out to us. We look forward to hearing from you.
Back To List