MARKETING TIPS TO LAUNCH YOUR NEW BUSINESS FROM HOME
9/6/2022
According to research by the Small Business Association, about 50 percent of all new small businesses are launched from home these days. The pandemic caused a significant shift towards remote work, and even as many people return to the office a few days a week, the idea of working from home is likely here to stay. In fact, per an Owl Labs study about 16 percent of companies are fully remote already – but some 62 percent of workers aged 22-65 say they work remotely at least occasionally.
If you've recently opened up a new business from the comfort of your own home, you may already be enjoying the conveniences that a home office setup brings. But just because you don't happen to have a commute or a brick-and-mortar location, that doesn't mean that you should skimp out on your marketing tactics.
Developing a comprehensive marketing plan can help you establish yourself in a busy marketplace and set you up for long-term success. When you're getting ready to start your new business plan from home, consider the following:
Bulk up on basics: Your office may be located at home, but you're probably still conducting some business in person. Ensure that you give the kind of strong, professional impression on potential new clients, customers and partners alike with well-designed business basics. Even something as simple as a business card can help you close a deal or keep your business top-of-mind when leads think of you.
Diversify your channels: As reported during the 2021 Content Marketing World conference, 47 percent of consumers are seeking out downtime from the internet due to an increasing sense of digital fatigue. What that means for you as a new business owner is that you need to create powerful, lasting brand associations to better generate leads. To do this, you should be engaging in a multichannel marketing campaign that includes offline platforms, such as direct mail, to forge connections.
Plan your promos: Whether sent as part of a lumpy mailer or given away during in-person meetings with clients, a well-designed promotional item can do a lot of work for your brand. Useful, practical items like tote bags, calendars, magnets, pens and more have a remarkably long shelf life inside a client's home, working to keep your business at the front of their minds.
Embrace expos: Trade shows can be a great place for you to connect with new clients, generate leads and network with other people in your industry. You can help make an impact for your business with a smart trade show booth setup that includes standing banners, tabletop displays, printed collateral and much more.
Need an extra helping hand to get your new business off on the right foot? Contact American Speedy Printing! We can help with everything from logo design and business cards to trade show booths and promotional items. Contact us today to set up a free consultation.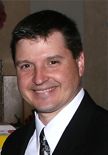 Joe is passionate about helping SMBs. He's spent the last 30+ years building the American Speedy Printing Marketing • Print • Mail – and sharing best practices and marketing trends with his customers. Through research, in-person visits and this blog, he hopes to engage with and empower local business owners and marketing professionals.
Back To List