MAKE AN IMPRESSION AT YOUR NEXT MEETING OR CONFERENCE WITH PROFESSIONALLY PRINTED MATERIALS
7/22/2021
Let's Start A Conversation:
The key to making a great impression at a meeting or conference is preparation. This is not limited to just having a great presentation, but should also include having printed materials that are professional-looking and represent your organization well. Depending on what the goal of your presentation is, the types of printed materials that you will use may vary:
• Folders: If you are pitching a new business opportunity, you will probably have various documents such as information sheets, forms for attendees to fill out, and more. You want to make sure all of these documents are in one place that is both organized and well-branded. A custom folder with your organization's logo and other information will provide recipients with an easy way to keep track of the documents you have provided to them, and will help to reinforce your brand identity every time they use it.
• Booklets: Are you hosting a training seminar, presenting an annual report, or need to provide prospective clients or customers with data about all of the products or services that your company provides? Printing and binding services for booklets will help you put all of your important information in one place that the recipient can easily carry with them and consult as needed. Different binding options such as spirals, three ring binders, or sewn binding can be chosen to best fit the needs of the booklet, and you will have a durable finished product that can be opened up and referred to often.
• Flyers: If you are doing a quick, informal presentation or just making a sales pitch as people pass by, a simple one-sheet flyer is ideal. You can quickly hand it to the people you are speaking to so that they can glance at it and see your organization's branding and other information as you are speaking to them.
• Business cards: Any time you are networking, presenting, or otherwise representing your organization, business cards are a must have. They are a quick way to share your contact information and give the clients, customers, and peers who you meet a tactile way to remember your interaction, increasing the likelihood of them reaching out to you later on.
Make sure you are prepared for your next presentation or conference by having the appropriate printed materials for your needs. American Speedy Printing provides printing and binding services, business card design, and much more to help businesses put their best foot forward! Let us help consult you!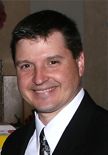 Joe is passionate about helping SMBs. He's spent the last 30+ years building the American Speedy Printing Marketing • Print • Mail – and sharing best practices and marketing trends with his customers. Through research, in-person visits and this blog, he hopes to engage with and empower local business owners and marketing professionals.
Back To List